Every day we make choices . . . grab some fast food for breakfast, or have some fresh fruit . . . walk up the stairs or take the elevator . . . you can follow the crowd or stand alone. What would you do?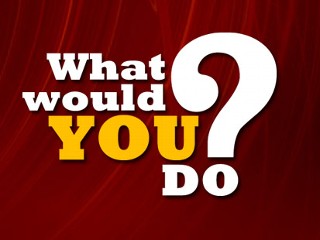 This is the basis of the television segment
What Would You Do on ABC
. They set up scenarios that are supposed to make you stop and think, and then they let the hidden camera roll to catch on tape what people really do in these situations.
Now, you might ask what this show has to do with this scam blog. It turns out that they are looking to do a segment where one of the scenarios will be a person that is entering into a situation that is clearly a scam. Will people warn them or just let them go on believing that this is all real?
They would also like to partner this with an interview with real life scam victims who would be willing to share their story. If you are a scam victim who is willing to share your story please
contact me
. They would prefer someone in the New York Tri-State Area, since that is where their production studios are located.